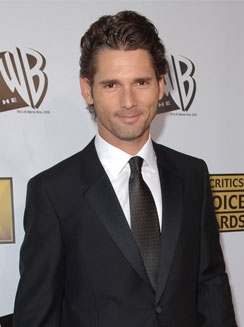 Michael Caulfield/WireImage.com
Eric Bana's always so damn serious in H'wood dramas. But the dude's known mostly for comedy Down Undah—he's practically the Australian Will Ferrell. At the G'Day USA Black Tie Gala at the Renaissance Hotel, we asked honoree Eric why the flip from being funny?
"By the time I finished doing comedy at home, I was pretty burnt out of it, I was doing it for about 12 years," Eric told us. "I'm sure I'll get back into comedy at some stage, dip my toe in the water and get bitten by the bug again perhaps."
E.B. continued: "I did just have a bit of a dabble a couple months ago with Adam Sandler in a film that comes out later this year." That would be Funny People, Judd Apatow's next funny flick. We gotta say, Bana's a helluva lot more fun to look at than Seth Rogan or Jonah Hill, so color us excited for this one.
How about your feelings on Hugh Jackman? Big, brawny and Aussie—seems like competition, dontcha think?