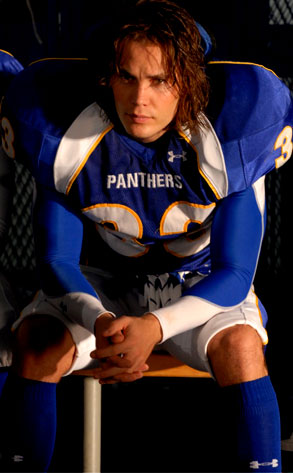 NBC/ Bill Records
Friday TV's Big Mystery, Other Than How Did Battlestar Galactica Do? Did Friday Night Lights do what it was supposed to do in its return to NBC? And what did NBC exactly expect it to do? Keep people home on Friday night? Help kill time until Jay Leno arrives? Make the masses feel bad about not having DirecTV (where they could have watched the show's third season this past fall)?
What FNL Did: It stayed in the game. It ran fourth in the 9 p.m. hour in viewers, but only finished about 300,000 viewers out of second place, per Nielsen estimates as reported by Mediaweek. In the 18-49 demo, it tied for second with ABC's Supernanny.
What FNL Did to Make Brooke Shields Look Bad: Compared to last week's Lipstick Jungle, FNL was up in viewers (4.6 million versus 4.1 million) and the demo (1.6 rating versus 1.4 million).
Friday TV's Winners: Ghost Whisperer (10.5 million), Flashpoint (10.4 million) and Numb3rs (10.9 million), all on CBS.
The Beast Update: The Patrick Swayze series averaged 3.6 million viewers for back-to-back premiere episodes on Thursday night, TVWeek reported. Last week, that would have been enough to land the show in cable's Top 30.
So, What About Battlestar Galactica? Numbers weren't out yet for the outgoing Sci Fi series' return (en route to its March farewell).