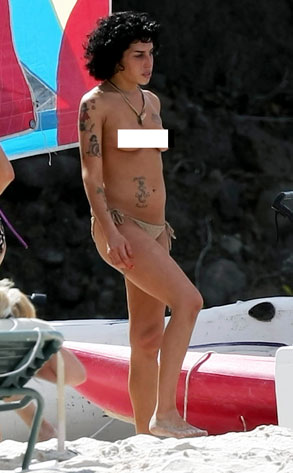 Flynet
The island that helped Amy Winehouse get her groove back—and possibly precipitated her impending divorce from Blake Still Incarcerated—is heaping some rare public praise on the singer for boosting the profile of the exotic locale.
"Any edge that you can get, you hang on to it," St. Lucia's tourism minister Allen Chastanet told a local TV station Thursday.
Chastanet said that the media's incessant coverage of the singer, who has been living the tropical life since December, has shown the island (if not necessarily Winehouse) in a positive light.
To show their thanks for the now daily photos of Winehouse smiling with locals, government officials recently sent her a gift basket full of locally sourced products.
While the singer may be an unlikely poster child for the island, St. Lucia has appeared to accomplish what her family, the threat of emphysema and an all too brief stint in rehab could not: Get Winehouse cleaned up.