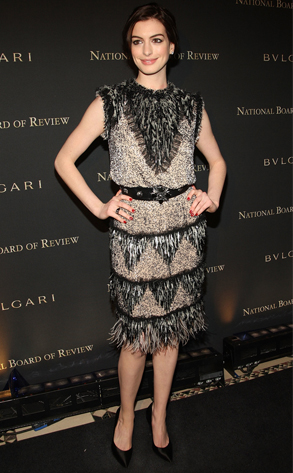 Stephen Lovekin/Getty Images
Anne Hathaway showed up to the National Board of Review last night erasing any memory we had of her looking too fab on her 10 million press tour and awards show appearances for the even fabber Rachel Getting Married.
Almost looks like babe skinned a saber-toothed tiger and wrapped it around her bod to keep warm. This is just nasty. We're sorry ya lost the Golden Globe on Sunday (well, not really, we love our Kate Winslet), but there's simply no reason to throw in the towel and give up just yet, doll, and it sure likes you have!
There's still the Oscars—a nom is a sure thing—and even if ya don't win Best Actress, Best Dressed helps your career almost as much, trust.