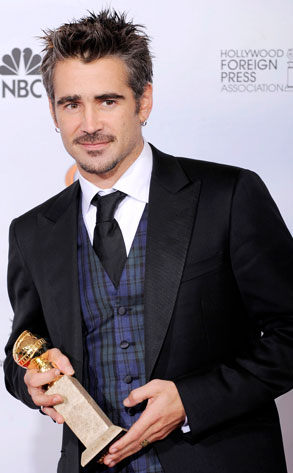 AP Photo/Mark J. Terrill
Rehab's the new DUI in H'wood nowadays, and formerly naughty men are seeing the light. Robert Downey Jr., Mickey Rourke and G.G. winner Colin Farrell are all about waving buh-bye to their salacious, often pathetic pasts, and they're being handsomely rewarded for it.
Col's demeanor at the Globes was stunningly rehabilitated, don't you agree? He was a friggin' walking billboard for Hollywood's naughtier set to come clean. "I had to make certain changes in my life I thought needed to be changed," C.F., scrubbed and gleaming, told us at the Globes.
Maybe Russell Crowe, who's still known for being belligerent to colleagues and friendly to beer-swilling swagger, should follow suit? He used to be the the hottest dude Down Undah before being replaced by Hugh Jackman's chest and Heath Ledger's now sainted memory.
R.C. hasn't been Oscar nom'd in a couple of years. His movies aren't faring well. So at a Globe do we grilled Crowe collaborator Ron Howard and asked if the hotheaded actor was actually a misunderstood kitty cat in person? You might be surprised by Opie's frank response: