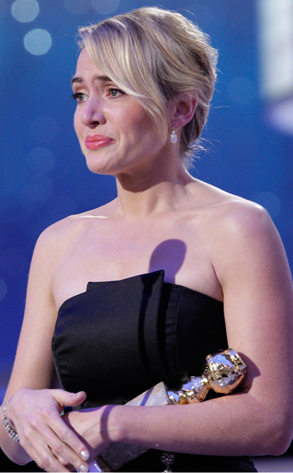 Chris Haston/NBCU Photo Bank
Slumdog Millionaire took a big bite out of the celluloid competition—and a big step toward Oscar—with four awards, including Best Picture, Drama and Best Director for Danny Boyle at Sunday's 66th Annual Golden Globe Awards.
But the heartwarming little-film-that-could wasn't the only one who milked the spotlight, thanks to some golden moments for Kate Winslet, Mickey Rourke, Heath Ledger, Tina Fey and John Adams.
Winslet proved a one-woman victory machine, sweeping the Best Actress, Drama, and Supporting Actress categories for her drastically different turns as a discontented 1950s-era housewife in Revolutionary Road and as a guilt-ridden former concentration camp guard who has an affair with a teenager in The Reader.
"I am so sorry, Anne, Meryl, Kristin—oh god, who's the other one?! Angelina! This is, OK now, forgive me...Is this really happening?" stuttered the flabbergasted actress as she capped off her night with the win for Revolutionary Road.
Rourke, whose comeback took a turn for the legitimate as he pinned down the win for Best Actor for The Wrestler, gave a Hollywood-outsider-style acceptance speech that, like Winslet's overwhelmed batch of thank-yous, provided both amusing and heartfelt entertainment.
"Several years ago, I was almost out of this business, and a young man kinda got in touch with me, and he kinda put his whole career on the line, saying he wanted to represent me," Rourke said. "So I want to thank David Unger for having the balls. And I want to thank his boss at ICM for not putting him back in the mailroom."
Director Darren Aronofsky "brought the best out of me," Rourke continued. "He hates it when I say he's tough, but he's one tough son of a bitch." (Aronofsky rewarded the sentiment by good-naturedly giving his star the finger.) "If you're not in shape, the man will bring you down, because I always say he's smarter than the rest of us—maybe not Steven," he added, meaning the night's Cecil B. DeMille Award recipient, Steven Spielberg.