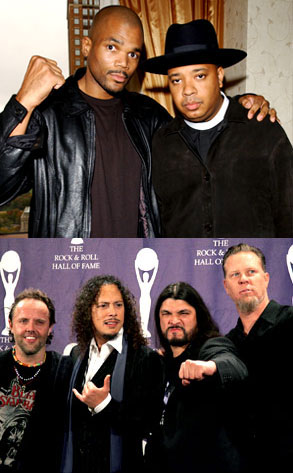 Frank Micelotta/ImageDirect; Nancy Kaszerman/ZUMAPress.com
Wherever Metallica may roam these days, Cleveland will definitely be on the itinerary.
The chart-dominating headbangers join hip-hop pioneers Run-D.M.C. as the top acts to be enshrined in this year's class at the Rock and Roll Hall of Fame.
The list of inductees, announced today, also includes guitar god Jeff Beck, 1950s doo-woppers Little Anthony and the Imperials and soul man Bobby Womack. Wanda Jackson, the so-called "First Lady of Rock and' Roll," will be admitted in the early influence category, while Spooner Oldham and Elvis cohorts Bill Black, DJ Fontana are the newcomers in the sidemen section.
"Wow...what a great way to start off 2009! We are beyond proud," Metallica gushed on its website. "Cleveland really rocks."