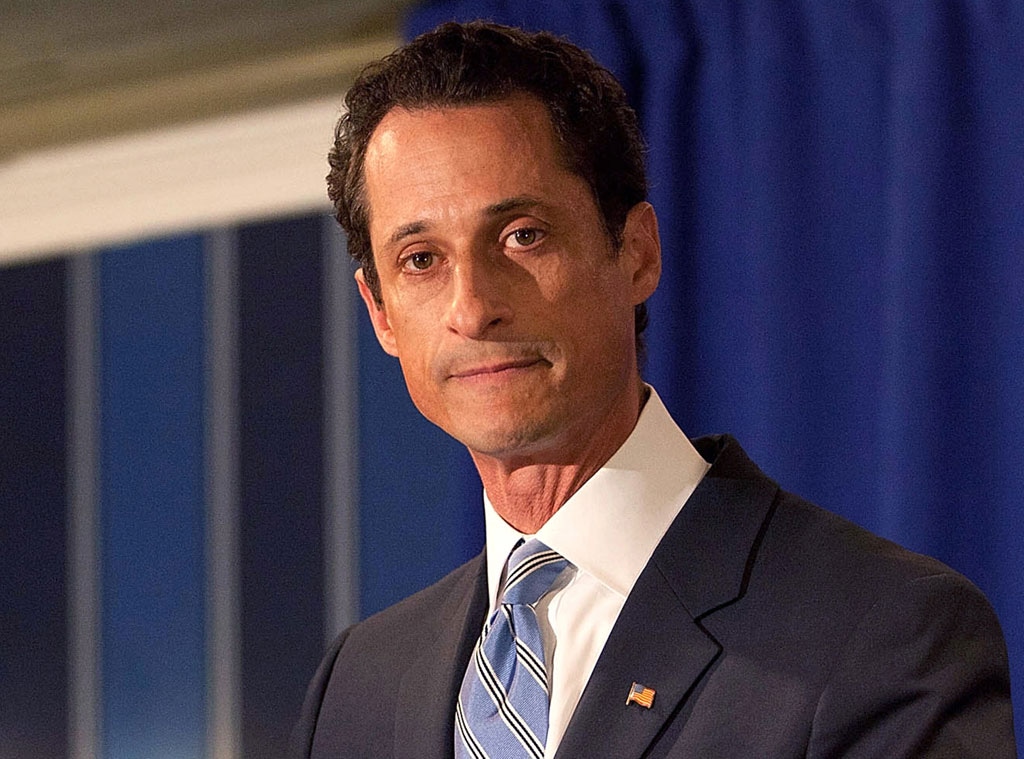 Andrew Burton/Getty Images
Anthony Weiner's ultimate downfall was years in the making, but when it came, it came fast. And he had no one but himself to blame.
The ex-congressman pleaded guilty Friday morning in a federal courtroom in New York to transferring obscene material to a minor, NBC News reports. Sentencing has been scheduled for Sept. 8; prosecutors are recommending a sentence of between 21 and 27 months in prison on the charge, which carries up to a 10-year prison sentence, but a judge could also decide to give him just probation. Either way, Weiner must register as a sex offender.
His father and brother were reportedly in court with him. Noticeably absent was Huma Abedin, who left Weiner last summer, in the middle of longtime boss Hillary Clinton's run for president, after he was once again caught exchanging sexually explicit messages with a woman online. Barely two hours after he entered his plea came the report that she had filed for divorce.
It now seems like another lifetime ago when Rep. Anthony Weiner was just a veteran politician with a still-bright future, a Democrat from Brooklyn, a college friend of Jon Stewart's who was trading witticisms on The Daily Show.
So, how did we get here?
2010: During his last appearance on The Daily Show before becoming a national punchline, Weiner was serving his sixth term representing New York's 9th congressional district. "I don't have a lot of marketable skills, I'm one of the jobs Obama created," he jested with Jon, who complimented Weiner's passion and work on health care reform.
At the end of their conversation, Stewart said, "This is all very impressive. And I don't know what you've done with the Anthony Weiner I know, the one that I knew, but this new cat, this guy right here, in front of me..." He made a "not too shabby" gesture.
2011: Does Jon Stewart look grayer to you?
May 27, 2011: At 11:35 p.m., Weiner accidentally posted a picture of his underwear-clad crotch on Twitter that was apparently intended for a direct message to a college student. He initially claimed his account had been hacked and repeated that excuse for about a week.
June 6, 2011: Unfortunate misunderstanding of how Twitter works aside, the real reveal was that Weiner, whose wife was pregnant at the time, was flirting with other women online. At a tearful news conference, he admitted at the time to having sexually explicit conversations with at least six women, but insisted he never met any of them in person.
"I don't know what I was thinking," he said. "This was a destructive thing to do. I'm apologetic for doing it." Some of the online relationships started before he was married, and some after. Abdein did not appear with him at the news conference.
June 10, 2011: The New York Times reported that Weiner had also been exchanging private messages (he insisted they were entirely innocent) with a 17-year-old girl in Delaware. After a conservative group that was monitoring Weiner's Twitter feed tagged the teen—a big fan of Weiner's who would sometimes publicly post about chatting with him—in a few tweets about the congressman, she complained to Weiner that she was being harassed. He unfollowed her, but then after tweeting that he'd be happy to follow back if people followed him, she tweeted, "Don't forget me. I used to follow you." So he followed her again, they started exchanging messages, and she shared one publicly, including one on Tumblr in which Weiner had written her, comparing himself to a superhero, "I came back strong. Large...tights and cape..."
June 11, 2011: His office announced that he planned to take a leave of absence from Congress for treatment "to focus on becoming a better husband and healthier person," but colleagues such as then House Democratic leader Nancy Pelosi insisted he step down. 
June 16, 2011: "I am here today to again apologize for the personal mistakes I have made and the embarrassment I have caused," Weiner said upon tendering his resignation after 12 years in Congress. "I am announcing my resignation from Congress, so my colleagues can get back to work, my neighbors can choose a new representative and most important so that my wife and I can continue to heal from the damage I have caused."
Abdein was not present for the announcement at a senior center in Weiner's district.
June 21, 2011: Weiner officially resigned. He retained control of $4 million in his campaign account and an investigation opened by the House Ethics committee into his behavior was soon closed.
December 2011: Abedin and Weiner welcomed their first child together, son Jordan Zain Weiner.
April 10, 2013: The couple broke their silence about the scandal in a New York Times Magazine profile.
"We have been in a defensive crouch for so long," Weiner said. "We are ready to clear the decks on this thing." Asked about her decision to stay after the scandal broke in 2011, Abedin said, "Here was a man I respected, I loved, was the father of this child inside of me, and he was asking me for a second chance. And I'm not going to say that was an easy or fast decision that I made. It's been almost two years now. I did spend a lot of time saying and thinking: 'I. Don't. Understand.' And it took a long time to be able to sit on a couch next to Anthony and say, 'O.K., I understand and I forgive.' It was the right choice for me. I didn't make it lightly."
"She's given me another chance,"Weiner said, reportedly through tears. "And I am very grateful for that. And I'm trying to make sure I get it right."
April 14, 2013: Like a phoenix risen from the ashes, Weiner released "Keys to the City," a 21-page policy booklet outlining plans to benefit the middle class in NYC--a like-minded document to one he released in 2008 when he was exploring a possible mayoral run.
May 21, 2013: Weiner announced his intention to run for mayor of New York City.
July 23, 2013: Weiner confirmed at a news conference, this time with his wife beside him, that he didn't stop having illicit online communications with women until the summer of 2012, a year after resigning from Congress. TheDirty.com had posted long chains of sexually explicit messages exchanged by Weiner and a woman who would eventually identify herself as Sydney Leathers—and it was reported that their exchange went on until November 2012.
The big take-away this time, the one that really tickled the late-night hosts: Weiner had been using the alias "Carlos Danger," with the user name Dangr33. 
"While some things that have been posted today are true and some are not, there is no question that what I did was wrong," Weiner said in a statement. "This behavior is behind me. I've apologized to Huma and am grateful that she has worked through these issues with me and for her forgiveness. I want to again say that I am very sorry to anyone who was on the receiving end of these messages and the disruption that this has caused. As my wife and I have said, we are focused on moving forward."
July 25, 2013: He told reporters he didn't have an addiction problem with the sexting. "I want to return to having a conversation [about policy]," he said. "I don't know if I'll have a chance to."
July 31, 2013: Sydney Leathers told Howard Stern that her exchange with Weiner started after he was caught sexting the first time, and she wrote him on Facebook to express her disappointment. He "poked" her back a year later.
"Maybe I thought I was in love with him," she recalled on The Howard Stern Show. "In reality I wasn't, it was just the infatuation, and the whole situation was just really intense."
"Do you think he maybe actually thinks this is not cheating?" Robyn Quivers asked. "Maybe, but then again maybe not because I don't think he really gives a s--t, to be honest," Leathers said. "I think he's like, 'I'm Anthony Weiner, I'm gonna do, I'm Carlos Danger, I'm gonna do whatever I want. Who cares about my wife? She'll forgive me no matter what.'"
She said that came forward, basically, to expose his hypocrisy.
Sept. 10, 2013: Weiner was crushed in the Democratic mayoral primary, winning less than 5 percent of the vote.
May 20, 2016: Weiner hits theaters. The documentary, directed by Josh Kriegman and Elyse Steinberg, chronicled his ill-fated 2013 mayoral campaign and overall attempt at a political comeback while he's simultaneously having to answer for his self-destructive online behavior yet again.
"It's like reliving the nightmare," Abedin is seen telling her husband in the film when TheDirty report pops up. (Weiner recently told The New York Times that his wife didn't agree to be in the movie. "They didn't have a release. She had to grant permission, which she didn't," he said.)
July 6, 2016: In a story musing as to why Huma Abedin is still married to Anthony Weiner, Vanity Fair reports on several sources' theories, including those who thought Abedin stayed because Weiner is now conveniently a good stay-at-home dad while she's on the campaign trail with Hillary Clinton.
Nelson Ching/Bloomberg via Getty Images
Aug. 13: The New York Post reports that Weiner started exchanging flirty texts with a college student after meeting her during a recent trip to L.A. to appear on Real Time With Bill Maher, at one point writing that he was "deceptively strong...like a mongoose." Weiner wrote in an email to the Post, "I can confirm that I am indeed deceptively strong like a mongoose" and said he knew he was engaging in a silly conversation with a catfisher.
Aug. 21: Weiner told a Florida radio station about his latest sexting snafu , "Look, I am a target of a local newspaper here in New York...If someone wants to snoop around my backyard and spy on me, I guess they are welcome to do it...I don't have anything to hide."
Aug. 28: The Post reports that Weiner was at it again on July 31, 2015, this time sending a shirtless selfie to a woman (one of a dozen selfies he sent overall) in which his son appears to be sleeping in bed next to him. The woman told the Post their exchange began in January 2015 and, while Weiner invited her to come to New York, she never met him.
"She has asked me not to comment except to say that our conversations were private, often included pictures of her nieces and nephews and my son and were always appropriate," Weiner told the paper.
Aug. 29: Weiner deletes his Twitter account, but we can all guess which child-size straw broke the camel's back. Abedin announces that she has separated from her husband. 
"Anthony and I remain devoted to doing what is best for our son, who is the light of our life. During this difficult time, I ask for respect for our privacy," she said.
According to the New York Times, the New York Daily News said it would no longer run columns by Weiner and TV station NY1 put him on indefinite leave as a contributor.
Sept. 22, 2016: After DailyMail.com broke the news of the then-alleged messages, federal authorities in New York issue a subpoena for records pertaining to allegations that Weiner was trading sexually explicit messages with a 15-year-old girl. The back-and-forth was said to have begun in January 2016.
The investigation into Weiner's online activity ultimately led to investigators finding emails related to the FBI's then-closed investigation of Hillary Clinton's use of a private email server while serving as Secretary of State, prompting the FBI to reopen that case.
Oct. 28, 2016: Then FBI Director James Comey informs Congress in a letter that they are reviewing new emails to see if they hold new information related to the Clinton case.
Nov. 6, 2016: Comey announces the emails warrant no new action and the decision stands that Clinton shouldn't face charges.
Dec. 22, 2016: Huma and Hillary are photographed together for the first time since the election after a meeting at Clinton's Manhattan office.
Feb. 6, 2017: Weiner and Abedin, who have reportedly maintained a co-parenting relationship since splitting up, are photographed in New York with their 5-year-old son.
May 19, 2017: Weiner pleads guilty to transferring obscene material to a minor. The disgraced politician tearfully reads the following statement in court, per NBC News: "Through approximately March 2016, I engaged in obscene communications with this teenager, including sharing explicit images and encouraging her to engage in sexually explicit conduct, just as I had done and continued to do with adult women. I knew this was as morally wrong as it was unlawful."
"I have a sickness, but I do not have an excuse," he says. 
It was last fall when he "came to grips for the first time with the depths of my sickness. I had hit bottom." He says he entered "intensive treatment" and apologized to the teenage girl. Weiner is free on bail, pending sentencing.
Hours later, Abedin reportedly files for divorce.
(Originally published Aug. 31, 2016, at 8 a.m. PT)