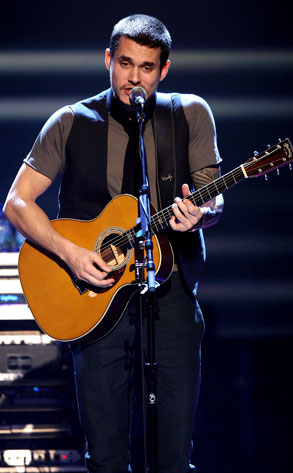 John Shearer/ Getty Images
CBS prez Nina Tassler told reporters that John Mayer's planned variety show is definitely a go. Per Tassler, "It'll be a music variety sketch show, and it's being developed now—it was his idea, we didn't reach out to him."
Planned for later this season, the show will initially be presented as a special, with possibility of a full-series pickup.
Why does John want to do a variety show when Rosie O'Donnell's was yanked off the air after the first airing? As John told E! at the Grammy noms, "I want to return talent to television...I want a show that rewards true talent."
So does Madam President have any ideas for truly talented stars who should stop by? "No, not yet." Um, hello: Jennifer Aniston! (She and Mayer can be a 21st-century Sonny and Cher!)
Speaking of Aniston, Tassler and her have something in common: They're both Mayer fangirls! Tassler says of the singer, "I love him, he is so multitalented, he has a great personality, really smart, loves television, and is very funny and has a great sense of humor about himself."
What else did CBS boss Tassler spill? The future of Sarah Chalke on How I Met Your Mother and where you'll be able to see Moonlight star Alex O'Loughlin on the Eye network in coming months...