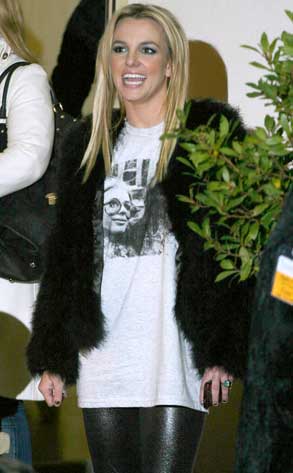 INFdaily.com
Secondhand heartbreak overcame me yesterday when I read Us Weekly's deliciously heinous item about the awkward run-in between Britney Spears and Justin Timberlake. It was so not supposed to go down this way.
Our beloved Brit-Brit is anything but back on her feet. You all know that, don't you? (You surely should if you're reading this blolumn.)
I mean, if Brit-babe actually does need to hire someone to micromanage her weblife, she's clearly in no condition to see an ex-BF and his gorgey real-haired girlfriend when she's unprepared for such a meeting, which is akin to a damn state visit here in H'town.
And shame on you, Justin, for not going over and saying hello to the Britster, who openly talked about you on her MTV documentary.
Why oh why couldn't this disheartening ménage à trois have happened to whom it was supposed to occur with—and surely someone who could take it—Jennifer Aniston? Even if Jen found herself accidentally in Brangelina's presence wearing nothng but that fugly GQ tie, we know she could handle herself. And then some. Britney, don't think so. Not by a long breakdown shot.