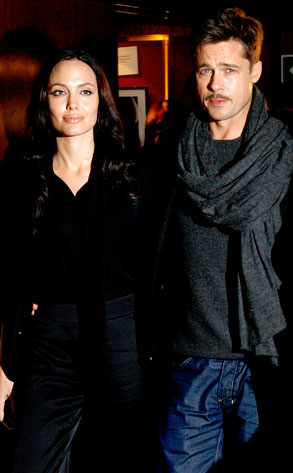 Jon Furniss/Getty Images
Dear Ted:
Is it me or does it seem like Brad and Angelina are kinda slackers when it comes to serving as awards show presenters. Big shots like Tom Cruise and Kate Winslet aren't too proud to get up there and hand an award to a peer, so what is up with Brad and Angie? Please don't tell me it's more of that pedestal polishing they have refined to a fine art.
—Madame Curious
Dear Get Real:
Look at the fawning those two got on the Globes carpet, Madame Barf. Cruise isn't even in the same realm as Brad anymore. Don't worry, though, he will be again.
Dear Ted:
You're a room-temperature IQ idiot.
—Dnordin
Dear Snooty:
I notice you didn't say where the room was—I'll assume it's in Death Valley.
Dear Ted:
Just a comment...you make me laugh! Especially your take on Jeremy Piven. I needed that. Just found your site about three weeks ago, and I am really liking it. Glad you dare to say what you do...hate to say it, but I think I am the only liberal in Utah. It sucks, you have to be so careful here. Will continue to follow your videos and comments.
—Combefarms
Dear A.T. Virgin:
Hey, I was just there over the holidays visiting some of my hub's family (he's a recovering Mormon). I know what you mean. Some were nice, but some sure as hell weren't.
Dear Ted:
Is it just me or did Angelina look very, very stoned at the G.G.s?
—L