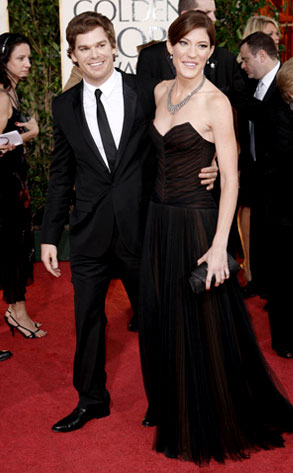 AP Photo/Matt Sayles
Showtime's fan favorite Dexter was completely shut out of any Golden Globe wins this year. (So. Not. Cool.) But the cast still had good reason to celebrate: the secret wedding of stars Michael C. Hall and Jennifer Carpenter.
"We champagne toasted [Michael and Jennifer] at our table," costar Julie Benz tells me. "It was a small, private toast. We're all so excited for them. They're just two wonderful people. They're such great friends to me, and we're all very happy for them!"
Pretty kind words for the woman whose new husband just ran off with his own sister, right? Oh wait, right, that's on the show. (Damn you for making your characters too believable, Dexter cast!)
So did any of the castmembers make it to the ceremony on New Year's Eve?