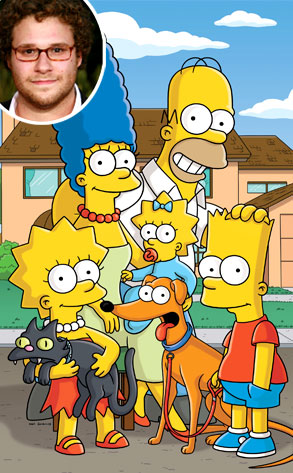 FOX; Glenn Weiner/ZUMAPress.com
Chances are, Seth Rogen will be supergood on The Simpsons.
The funnyman-of-the-hour has penned an episode of the Fox sitcom, in which he will provide the featured guest voice, E! News confirmed Friday.
"He wrote an episode we'll be reading soon, where Comic-Book Guy creates a superhero comic which then gets made into a feature film," said series creator Matt Groening. "Homer plays the lead and, to slim down, Seth Rogen will play his personal trainer."
Which probably means no munchies for Rogen's character...but we're sure the Pineapple Express star and Superbad coscribe has plenty more to offer, even when smoke isn't getting in his googly, animated eyes.
Next up for Rogen in the flesh is the comedy Observe and Report, in which he plays a mall cop (Look out, Kevin James!) who takes on the real police in a misguided—but surely funny—turf war.