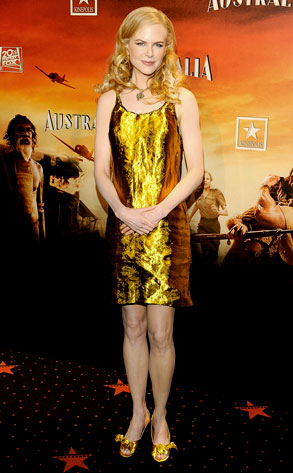 Fotonoticias/Getty Images
• Nicole Kidman seems to agree with the critics on her performance in Australia: "I can't look at this movie and be proud of what I've done. It's just impossible for me to connect to it emotionally at all." But in her defense, there's this plea.
• Suri Cruise continues to amaze us with her expert use of props to bring us new and different cute photos daily. That's dedication.
• Paris has something she wants us to know: "I've only done it [had sex] with a couple of people. People make up stories, but mostly I just kiss." Oh, that's awesome. Thanks, P.
• Guess who blogged this: "I DON'T HAVE GREY IN MY BEARD IN REAL LIFE!!!!!!!!!!!!!!!!!!!!!! I'M ALL DOWN WITH BEINGS IN MY 30'S BUT DAAAAAAAAMN!!!! THIS IS SOME BENJAMIN BUTTON'S SH*T!"
• You probably already knew this, but Zac Efron is magic.
• Get more scoop in our Big Picture gallery!