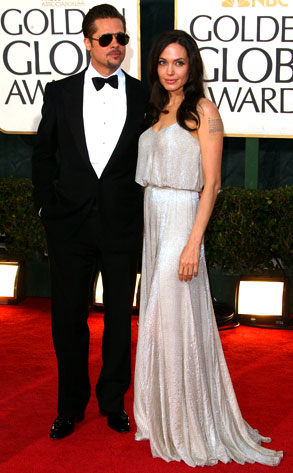 Frazer Harrison/Getty Images
As the stars arrive and the temperature rises, I'm liveblogging the Golden Globes red carpet.
2:30 p.m.: It's boiling on the red carpet. L.A. temps are supposed to be about 80 degrees today. No celebs just yet, but the bomb squad is doing a sweep. Dogs and scary-looking guys in camo fatigues carrying massive guns.
The Ernst & Young accountants walking by with the all-important silver briefcases.
3:00 p.m.: Bingo! Celebrities! Tudors star and nominee Jonathan Rhys Meyers. Handsome!
Lisa Edelstein from House just popped on the carpet for a nanosecond. Hair is perfectly pulled back. A black Gianfranco Ferré dress and Lorraine Schwartz jewels.
Edelstein is funny! She started getting ready this morning when her hair squad arrived at 9:30. "There are more pins in my hair! I can't go through the metal detectors."
And speaking of security, Edelstein says it was intense trying to get on the red carpet today. "It was practically like a gynecological exam," she cracks.
She adds, "They checked my car like I was a drug dealer or something."
3:16 p.m.: Grey's Anatomy newcomer Jessica Capshaw is wearing a fuchsia Prada minidress.
We talk Grey's and recent criticism that the show has taken a turn for the worse.
"Incredible storylines are coming about because it's been five years of total immersion," Capshaw says. "I don't think there is anything wrong with experimenting."
For about 20 minutes, maybe half an hour, the carpet has become unusually quiet.
But then, nominee Kevin Connolly! People are screaming.
He's brought his mom as his date. But when I talk to him, she's nowhere to be found. "She was on the carpet for maybe 15 minutes and complained that her feet hurt," Connolley says with a laugh. "She went inside and said, 'Tell me when Brad and Angelina get here.'"
4:45 p.m. I had heard Brangelina was supposed to arrive at about 4:15. I haven't seen them yet.
Harvey Weinstein just pinched Jeremy Piven on the cheek.
Beyoncé is slowly walking behind Anne Hathaway as Drew Barrymore runs to catch up with Jessica Lange, her costar in HBO's upcoming Grey Gardens.
Emma Thompson just stopped The Wrestler's Marisa Tomei. "I absolutely loved your performance."
4:55 p.m. Oh, here's a crush of A-list.
Jennifer Lopez looks unbelievable in gold.
Brad and Angie are hurrying down the carpet. "I can't. I can't. I gotta get inside," Pitt shouts—with a smile, of course—to a slew of TV reporters.
There's Tom Cruise and his megawatt smile. Yup, he's running inside. It's showtime!