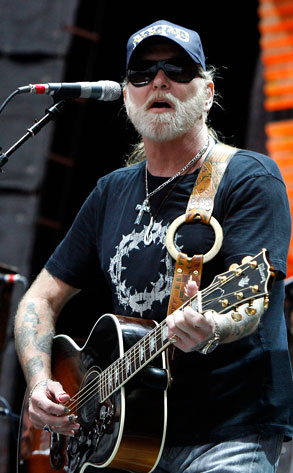 AP Photo / Jason DeCrow
If anyone thinks they can rip him off, Gregg Allman wants you to know you can't take it with you.
The Allman Brothers Band frontman found himself the victim of a burglary after two thieves broke into his Richmond, Ga., home on Dec. 27 and made off with an array of souvenirs, including a coin collection, knives, a gun, unreleased concert recordings and other personal paraphernalia.
But within 48 hours police not only recovered most of the pilfered items (a handgun was still AWOL) but also nabbed two suspects, 27-year-old Craig Matthew George and 19-year-old Brittney Ann Sahlberg, both of whom reportedly had some kind of aquaintance with the rocker. They were charged with burglary and released on bail, apparently without being tied to the whipping post.
The Rock and Roll Hall of Famer, who took a break from touring last year to receive treatment for hepatitis C, was not home at the time of incident.