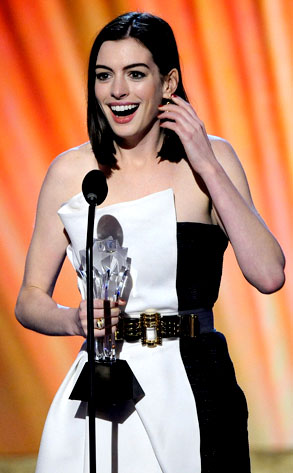 Kevork Djansezian/Getty Images for VH1
The prime-time portion of the posthumous honoring of Heath Ledger has begun.
The late thesp was named Best Supporting Actor at the 14th Annual Critics' Choice Awards Thursday—not the first award bestowed upon Ledger for his extraordinarily nuanced performance in The Dark Knight, but his most public win to date and his peers' first chance to give him an evening gown-and-tux-clad standing ovation.
"Anyone who's seen any of the extraordinary work that Heath did knows that I can't presume to speak for him in any way because his voice was as unique as it was original. But...I know that I speak for all of us when I say that working with him was one of the greatest experiences any of us ever had or probably ever will have," said director Christopher Nolan, whose film also notched a win for Best Action Movie, in accepting the trophy on Ledger's behalf.
The superhero blockbuster lost out on the top prize, however, to critical darling Slumdog Millionaire, which rose above all comers with a leading five wins, including Best Picture and Best Director for Danny Boyle.