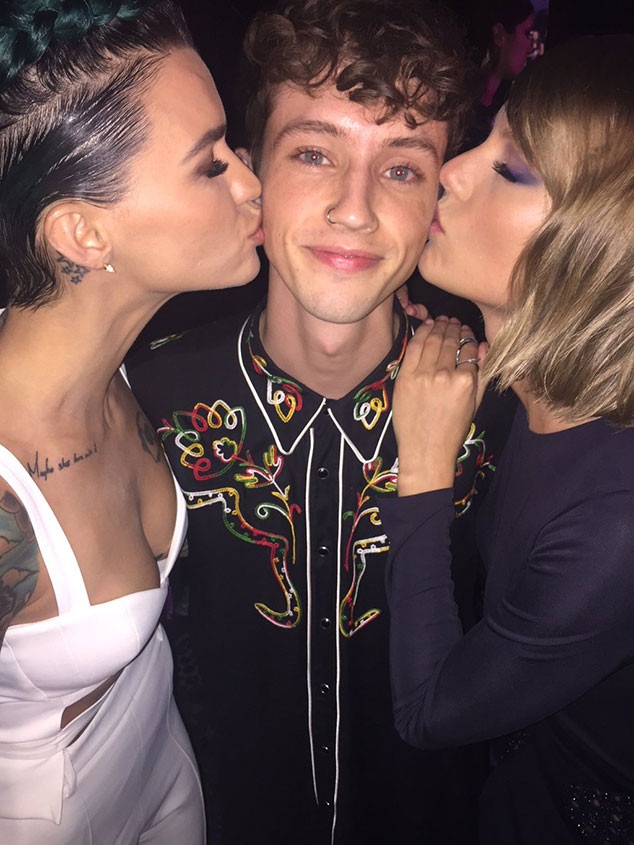 Twitter
Taylor Swift has the power to change lives.
Just ask Australian singer Troye Sivan.
"She found my music and supported it so wholeheartedly it really really changed my life," Sivan, 21, told me while promoting SweeTARTS' #FollowYourTart campaign at Comic-Con. "And I got to finally meet her at the GLAAD Media Awards a couple months ago. I just said thank you. I'm really inspired by her and that's something that I want to hopefully do for somebody."
It's only been about ten months since the "Bad Blood" pop queen told the world about her love of Sivan's EP Wild.
"GO @troyesivan WILD IS STUNNING AND AWESOME," Swift tweeted on Sept. 7, 2015. "(YES CAPS LOCK IS NECESSARY HERE.) #EPgoals."
About three years ago, Sivan came out as gay in a video posted to his YouTube channel. He didn't let anyone know of his plans because he knew there would be some opposition. The video has since been viewed more than seven million times.
"I knew it was such an important thing for me personally that to put it in the hands of anyone else seemed kind of irresponsible to myself," Sivan said. "I needed to have the self-respect to just kind of do it because I knew I needed to."
Fans began lining up to see Sivan hours before he was scheduled to appear at the SweeTARTS pop-up. Tickets to his outdoor concert later that night sold out in five minutes when they went on sale earlier this month.
"It's so surreal," Sivan admitted. "I don't think anyone in their right mind could get used to it."
Sivan will kick off the second North American leg of his worldwide Suburbia Tour on Oct. 16 at the Bill Graham Civic Auditorium in San Francisco.