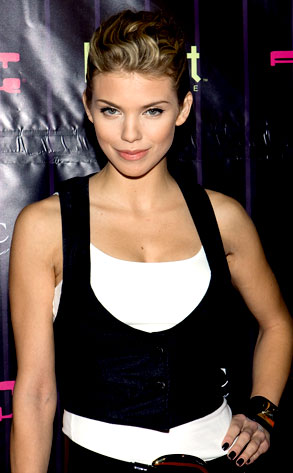 Chelsea Lauren/Getty Images
90210's AnnaLynne McCord and Twilight's Kellan Lutz were spotted seductively frolicking in Miami over the holidays, laying their barely dressed bods all over the beach for everyone to see. We had to wonder if this pretty pair was really a couple, since Kel was neck-biting another babe while still on vacay with Anna-L. So we went straight to the source's lips at the People's Choice Awards to find out.
Awful Truth: So are you and Kellan really dating?
AnnaLynne McCord: Oh, he is such a good friend!
Uh-huh. So are Ms. McCord's actions more truthful than her words? Other behind-the-scenes sources affirm to us that the two so aren't the next Zac and Vanessa of tween twosomes—the duo just have the same agent and the same plan to get some more PR. What can we say, it worked. Who knew you were both such good actors?
And don't worry, folks; just cause Ann and Kel ain't smooching each other doesn't mean they're picking out purity rings—says AnnaLynne's costar Rob Estes. "They've both had bite marks on their necks, that's for sure. Who knows if it's from each other!"
—Additional reporting by Taryn Ryder and Becky Bain