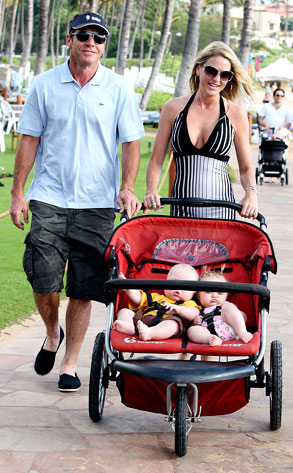 Will Binns, PacificCoastNews.com
Finally some closure for Dennis Quaid and family.
A Los Angeles judge today signed off on a $750,000 settlement between Dennis and Kimberly Quaid and Cedars-Sinai Medical Center over potentially fatal overdose of blood thinners given to their newborn twins.
Per the deal struck in December and made official this morning, the hospital did not admit any wrongdoing for the 2007 incident in which Zoe Grace and Thomas Boone Quaid were accidentally administered 1,000 times the recommended amount of heparin (commonly used to flush out I.V.s).
Cedars was earlier fined $25,000 by the California Department of Public Health for the error.
Citing poorly labeled bottles, the Quaids sued heparin manufacturer Baxter Healthcare Corporation for negligence. According to settlement papers, that action was dismissed on jurisdictional grounds, because the event happened in California.