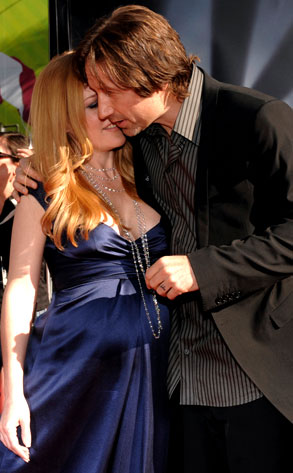 AP Photo/Chris Pizzello
Dear Ted:
What is your take on the rumors about Téa and David getting back together? It all looks like a PR stunt to me. After seeing images of them together, David looks miserable and Téa seems to be the one who wants to continue the marriage, not David. What is Téa's motive?
—Lindaderlin
Dear Faux-Real:
Uh, there are other human beings involved in his sad tale, darling, namely children. Remember them? Not that anybody ever really does in these tabloid split-up showdowns. Also, there's Ms. Leoni's pride, probably the thing folks have lost sight of most, including her.
Dear Ted:
Love the not-too-subtle digs at Manjawlina Jolie. However, I wanted to point out that Ms. Jolie had the opportunity to meet Jennifer Aniston face-to-face at last year's pre-Oscar party, which she and Brad were supposed to attend, but she was a no-show. She managed to make it to a film festival the same day, one I never heard of, so she was obviously not ill. She took the coward's way out, despite claiming publicly that she would "welcome" a meeting with Jennifer. Jennifer has handled this whole affair a lot more gracefully than I would have done.
—Fembot
Dear Kill With Kindness:
It's not exactly anything Jen has said that irks me; it's how she goes about it. Like hitting every magazine cover out right now and giving the same damn, self-pitying interview.
Dear Ted:
I don't understand why Brad Pitt is being so well reviewed for Benjamin Button. I found the movie too long and his performance was mostly wooden and monotonous. Oscar? Give me a break. Now that we know Jen was too boring to make your Blind Vices, has Brad ever been the subject of a Ted B.V.?
—Amcmurf