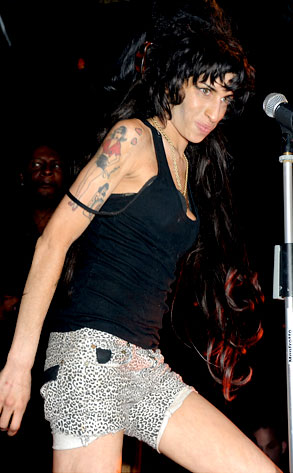 Dave M. Benett/Getty Images
Amy Winehouse may not have given in to wearing her bathing suit all the time, but she has agreed to pay the fine for her 2007 illegal marijuana possession charge in Norway.
The "Rehab" singer was touring when police caught her, hubby Blake Fielder-Civil and a crew member with a quarter ounce of pot in their hotel room. Each paid a $415 fine to make the charge disappear, but the troubled star later appealed, claiming police coerced her into signing a confession.
The initial March 2008 trial date was postponed and the 25-year-old chanteuse was summoned to appear next Monday. Now that she has withdrawn her appeal and accepted the fine, she will not need to make the trip to Norway.
Unfortunately, agreeing to pay the fine serves as a de facto guilty plea and may make it difficult for Winehouse to perform in the United States. When she paid the fine at the time of the incident, her visa application was delayed and she was unable to appear at the 2008 Grammys, where she received five awards.