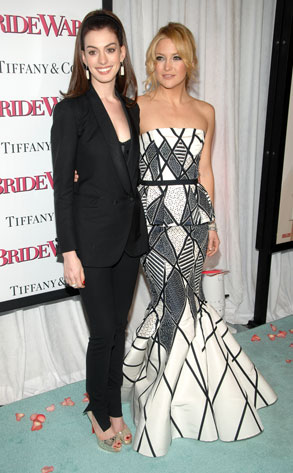 AP Photo/Peter Kramer
Anne Hathaway and Kate Hudson showed up at last night's Bride Wars premiere as each other's dates—the bride wore Oscar de la Renta while the groom sported a double-breasted suit.
Judging by Anne's "Yeah, I know we look ridiculous, thankyouverymuch" face, we're guessing this was not her idea. So we're going to put the blame on boy-crazy Kate, who probably coerced Anne into this using Katy Perry as scientific evidence that this would be awesome.
Unless the his 'n' hers ensembles were just one big coincidence. What's your guess?