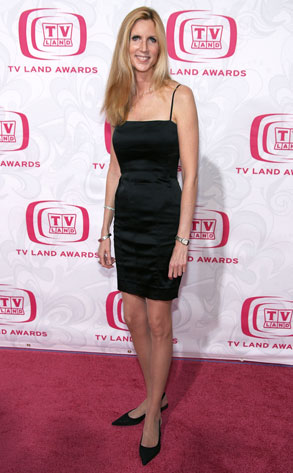 Frazer Harrison/Getty Images
The liberal media elite has run afoul of Ann Coulter yet again. Well, that didn't take long.
The lightning-rod conservative pundit is crying conspiracy—liberal media elite conspiracy, that is—over her last-minute cancellation from this morning's edition of the Today show. She claims her new book's inflammatory, right-leaning rhetoric, and not, as NBC insists, the little matter of devoting more air time to the ever-worsening Middle East conflict, was the reason for her abrupt bump.
"I guess this ends the 'they just want to get ratings' argument about liberal media bias," Coulter grouses on her website.
Coulter was due to appear on the first and fourth hours of Today to promote her new book, Guilty: Liberal 'Victims' and Their Assault on America, and while the Drudge Report yesterday upped the conspiracy ante, breathlessly reporting that Coulter has been permanently banned from the show, NBC News says hooey.