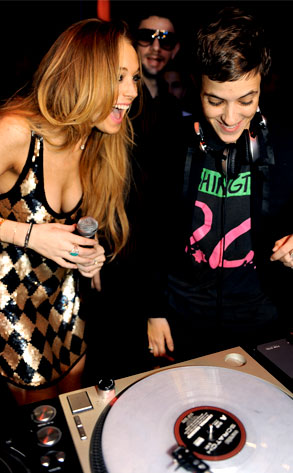 Seth Browarnik/startraksphoto.com
Lindsay Lohan has used her blog to do some important stuff, like support Obama and diss her dad. And now she's using it to deny that she and her frequent sparring partner, Samantha Ronson, have broken up.
In an entry titled "Rumors" and dated Monday, Lohan writes on her MySpace Celebrity blog:
"little piece of TRUE information...we did NOT break up!"
A source close to the actress told E! News today that the rumors weren't true, but the missive follows a statement she made to Life & Style denying the split after Access Hollywood, TMZ.com, and various celeb-gossip landing sites reported that the two were over.
"access hollywood, extra, et, every tabloid, page six... AND every GOSSIP website," Lohan continues. "Get your stories straight please. It's really annoying to have all of your friends emailing you saying, i saw, i read, etc... NOT TRUE
":) xoxox Lindsay"
Well, at least she's still in good enough humor to write "xoxox."