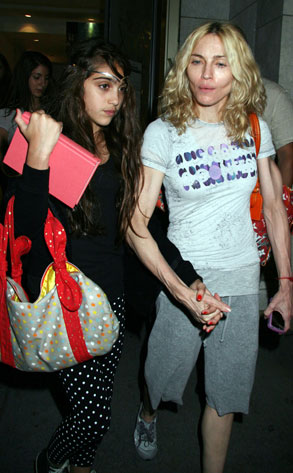 FAME PICTURES
We've been anxiously awaiting the acting/singing/modeling debut of Madonna's firstborn, Lourdes Ciccone Leon, for a while. The 14-year-old, who looks like she just fell out of an American Apparel ad, always seemed destined to follow in her mother's creative footsteps.
Looks like we may have to wait awhile longer. Despite a report that she's enrolled in Manhattan's Professional Children's School (also attended by Sarah Jessica Parker, ScarJo and the Tiz), Madonna's rep tells E! News, "That is not true."
Too bad. Rumor had it Lourdes was "desperate to become an actress." And considering Madge was never really able to make the whole acting thing work, maybe this is the one road to fame in which Lola could legitimately succeed.
Are you guys ready for Madonna 2.0: The Actor?