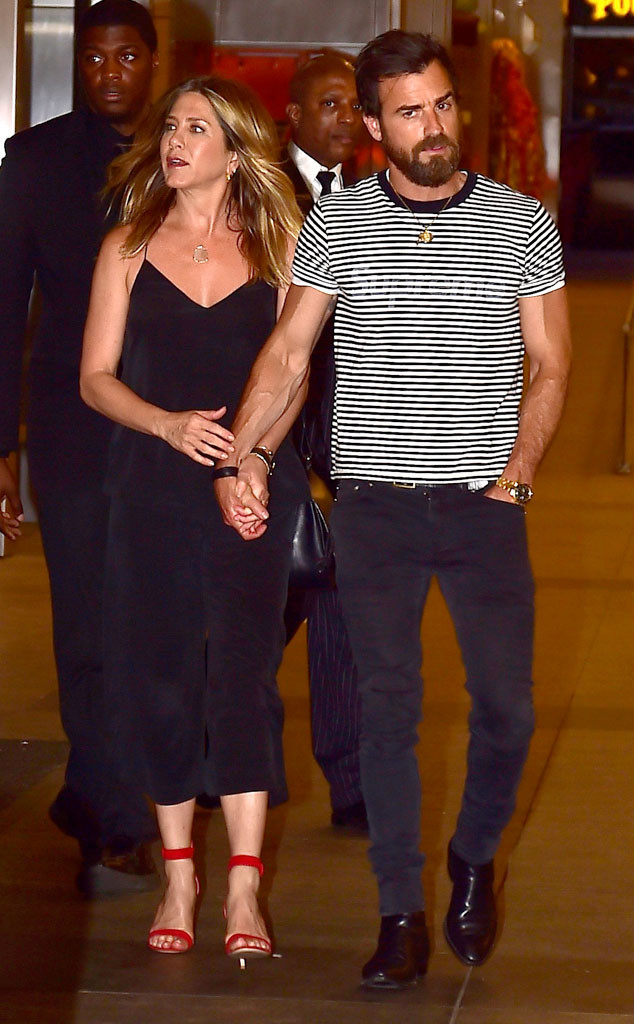 Alo Ceballos/GC Images
Jennifer Aniston and Justin Theroux are keeping busy taking bites out of the Big Apple.
As they approach their one-year August anniversary, the California couple has packed their schedules with date nights exploring New York City this past week. After enjoying a vacation in the Bahamas, the duo returned to the city sun-kissed and ready for a week of some good eats, including lunch at Mercer Kitchen, dinner at The Smile and most recently, a double date at Nobu on Sunday. The Japanese Tribeca eatery is a favorite for the two, having eaten there on a date night back in 2013.
Dressed in coordinating breezy attire, including a black striped t-shirt and jeans for The Leftovers star and a loose black jumpsuit and red heels for Aniston, the two arrived hand-in-hand to eat with celebrity pals and fellow married pair Howard Stern and Beth Stern.
Aniston's signature loosely curled honey hair blew in the wind as she smiled for photographers and held her husband's hand.