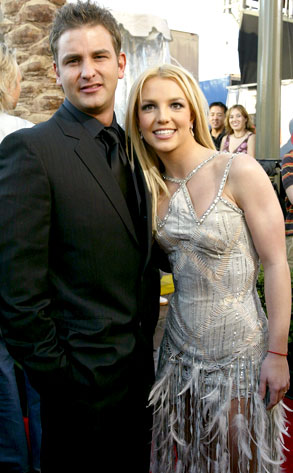 Frank Micelotta/Getty Images
Britney Spears' big brother started his new year with a good, old-fashioned wedding.
Bryan, 31, the eldest member of the Louisiana siblings, swapped vows with Graciella Sanchez, 36, on New Year's Eve at Latrobe's on Royal in New Orleans (not Las Vegas). The bride, who is Jamie Lynn Spears' manager, wore a Carolina Herrera gown, and the groom donned Marc Jacobs (no "pimp" sweat suits were involved).
The whole family witnessed the nuptials, including Britney and her sons, Jayden James and Sean Preson; Jamie Lynn, fiancé Casey Aldridge and tyke Maddie; and divorced mom and pops, Lynne and Jamie.
"It was beautiful," a source told People. "It was only close family, very small and intimate."
No sign of K-Fed, Bollywood choreographers or Benji Madden.