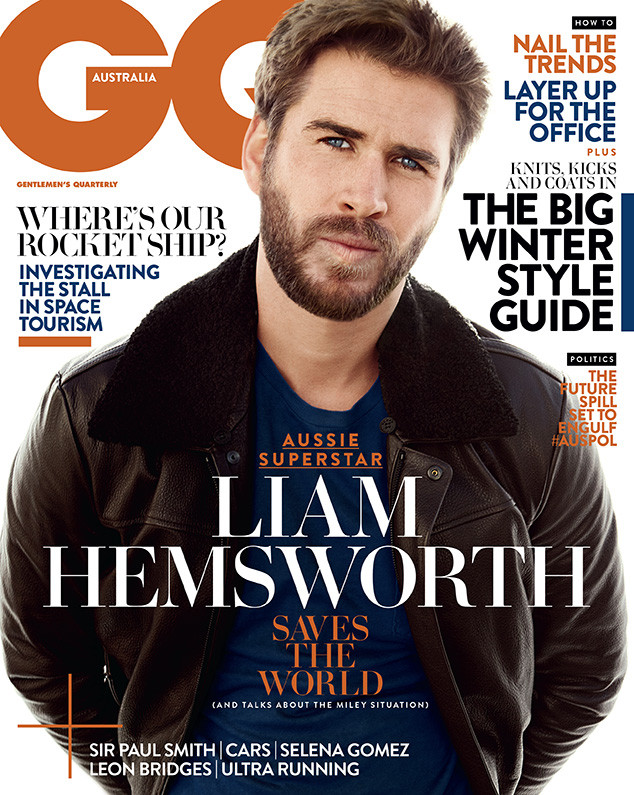 Todd Barry/GQ Australia
Time wasn't always worked in Liam Hemsworth and Miley Cyrus' favor.
In GQ Australia's June/July issue (on newsstands now), Liam, 26, offers rare insight into his relationship with Miley, 23. Though he recently told Australia's TV week he is "not engaged," that comment was likely meant to divert attention away from his love life. It's something he's been doing since they began dating in 2009 after meeting on the set of The Last Song. The couple briefly broke up in 2010, giving Liam his first taste of what it's like to be in a high-profile relationship. Two years later, he proposed with a 3.5-carat diamond ring. The couple called it quits again in the fall of 2013, and both went on to date other people before reuniting in 2015. The breakup was worse than either could have imagined. "Of course it was hard, man. But at the time we were going in different directions and it's just what needed to happen," Liam explains. "We were both super young and it was a good decision at the time—we both needed that."
In their two years apart, Liam and Miley were able to grow as individuals, allowing them to later grow together. When they reconnected, the Independence Day: Resurgence star didn't waste a moment. "I guess when I feel something, then I just feel it and I go for it," Liam says of dating Miley. "I make my decisions about what's going to make me happy, what I think is right and what I want to do—and I don't worry too much outside of that." Regarding the current state of their relationship, he teases, "People will figure it out, they already have...They're not dumb."