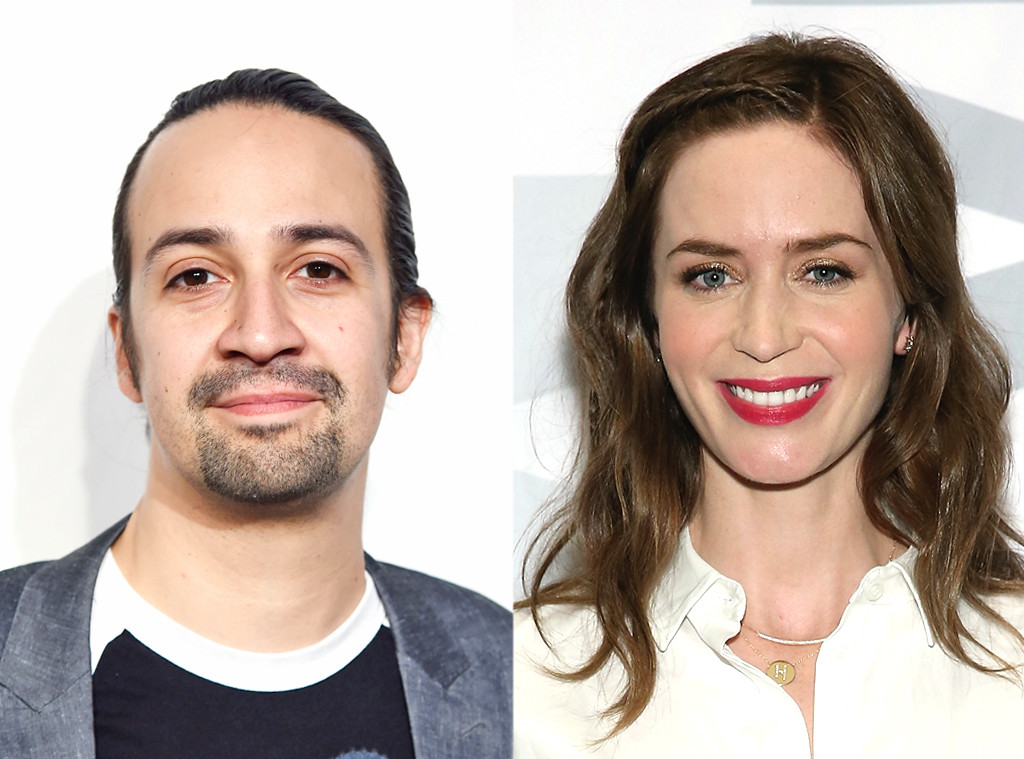 Getty Images
It's official! Emily Blunt and Lin-Manuel Miranda will star together in Disney's upcoming Mary Poppins live-action adaptation, Mary Poppins Returns.
Blunt has been cast as Mary Poppins and Miranda will play a new character, a street lamplighter named Jack. The film will take place in Depression-era London (when the books were originally written) and will follow a now-grown Jane and Michael Banks along with Michael's three children. After suffering a personal loss, the family is visited by Mary Poppins and Jack who help them rediscover the joys and excitement within the magic of life.
While some people were a bit skeptical of the new film, this casting could change their minds. In fact, here are 8 reasons Blunt and Miranda are the perfect pair for Mary Poppins Returns:
1. Blunt Is Pretty Much Perfect: First and foremost, the 33-year-old actress is practically flawless. From her amazing fashion statements to her great sense of humor, her willingness to take on a vast range of roles and her ability to never take herself too seriously, she's one of our favorite actresses right now, and we think she'll do the film (and Julie Andrews) proud!
2. Miranda's Incredibly Successful Background in Theater: The actor has been the head of the hugely successful Broadway play, Hamilton, which he not only starred in, but he also conceived and wrote. Needless to say, his genius will definitely play a big part in the musical of Mary Poppins Returns.
3. Blunt Looks Like Mary Poppins: Or should we say she resembles Julie Andrews? Truly, the two actresses have similarly gorgeous features, including those beautiful blue eyes and plump, red pout.
4. We Loved Blunt in Into the Woods: The actress showed off her sing-along chops in this Disney film, proving she'll be able to take on the same role in Mary Poppins. Not to mention, Blunt is already used to working with director Rob Marshall, who oversaw Into the Woods and is now taking the reigns for Poppins.
5. Miranda Isn't Afraid to Get Silly: As we all know, things get a little goofy in the original Mary Poppins movie. Thus, it's imperative the actors in the upcoming film are able to have some fun, too. This freestyle of Miranda on The Tonight Show pretty much proves that!
6. Neither Is Blunt: Only she could gloriously pull off "No Diggity" and those hilarious dance moves.
7. They Both Have Children: Blunt is already a mother to her 2-year-old daughter Hazel and is expecting another on the way, while Miranda has a 1-year-old son, Sebastian. The fact that they are parents makes creating a children's film all the more exciting for them.
8. They're Friends: The two were photographed backstage of Hamilton in October as Blunt supported Miranda in his Broadway play. When there's good chemistry off-camera, there's bound to be good chemistry on-camera, too!
Mary Poppins Returns is expected for release in December 2018.