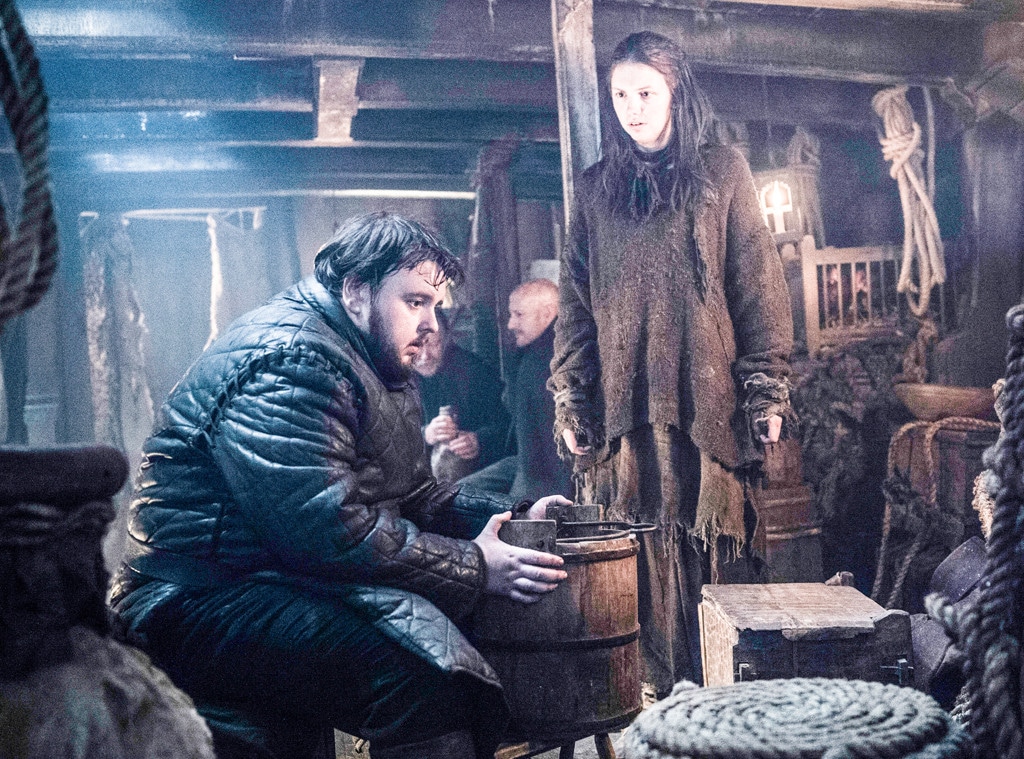 HBO
Prepare yourselves; it's time for another look at Game of Thrones season six. John Bradley, Samwell, popped up on Conan and gave Conan O'Brien a glimpse at Game of Thrones season six.
In the clip, which Bradley says is the first time viewers see his character, Samwell Tarly, he and Gilly (Hannah Murray) are on the high seas heading to the citadel to escape the White Walkers. Samwell can't handle the motion of the ocean it seems, so Gilly tries to calm him down with stories about why she thought the sea was called the sea. It's water as far as the eye can see.
Bradley also revealed the craziest Jon Snow theories he's heard about Kit Harington's character. The one he said he hears the most is Jon Snow will "come back in the form of an animal."
"So it is going to be the character, but he's going to be in the body of a direwolf or something," he said. "Which is a strange theory because what you're really asking yourself there is, 'Do they like the character of Jon Snow enough that they're going to want to see it being played by a dog. I mean Kit Harington, I'm sure he won't mind me saying this, he's got a very marketable face. He's a very, very good looking guy, carries a lot of sex appeal, I'm not sure a dog's going to carry that sex appeal. And if he does, those people have got to ask themselves some serious questions."
All will be answered, or maybe not, when Game of Thrones premieres on Sunday, April 24 on HBO. Conan airs weeknights at 11 p.m. on TBS.
Watch:
"Game of Thrones" Actors Play "Would You Rather" Game