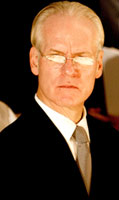 Joe Kohen/WireImage.com
Tim Gunn's almost a kind of spiritual leader around here, and we take all his guidance very seriously. So, when our style sage gave fashion advice to Emmy host Ryan Seacrest on his KIIS-FM radio show, we took detailed notes.
Here are some easy ways to please His Holiness (yes, we just promoted him). And, as always, Tim's red carpet advice is also applicable to your everyday life.
1. Wear a simple black-and-white tuxedo. Otherwise, Tim will be "despondent." And if he's not happy, we're not happy.