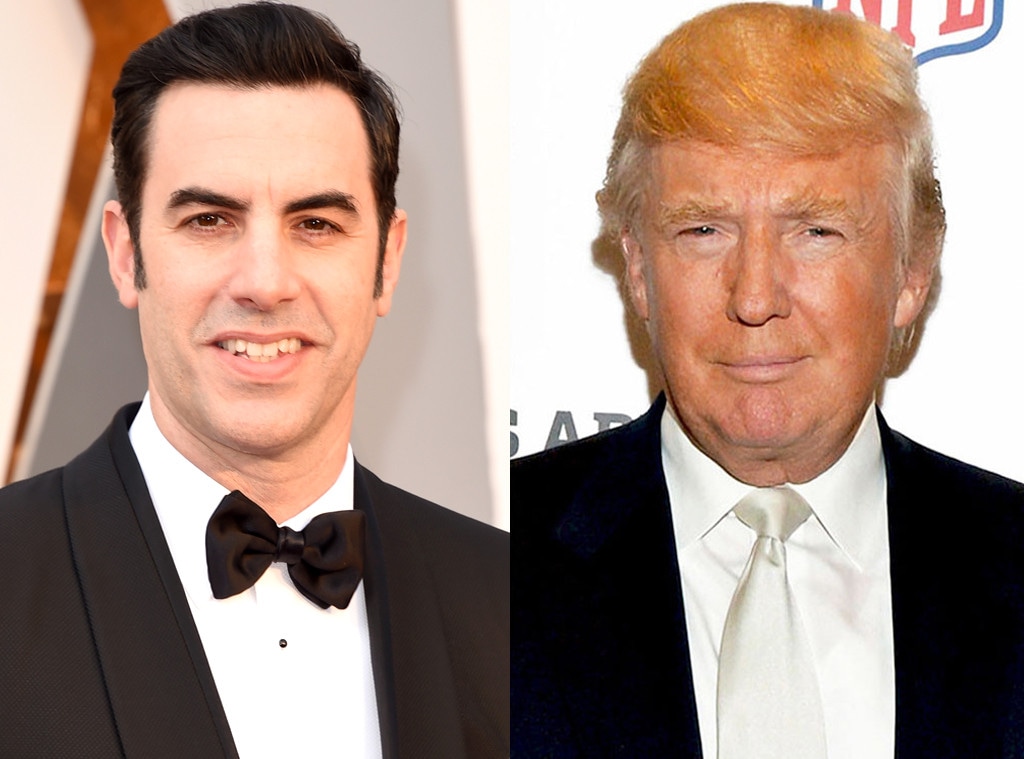 Getty Images
Donald Trump contracts AIDS in Sacha Baron Cohen's new comedy, The Brothers Grimsby, and audiences are reacting with applause.
Yes, the highly-controversial presidential hopeful is portrayed as getting the disease in the new comedic film, contracting it from none other than a look-alike Daniel Radcliffe. Though it won't open in U.S. theaters until next week, people in the U.K. have already had the opportunity to watch and respond to the scandalous scene, and let's just say the reaction is not in favor of Trump.
Watch:
Sacha Baron Cohen Talks Donald Trump Getting AIDS?!
According to the U.K.'s Daily Telegraph, the scene has encouraged massive cheers, applause and even a standing ovation—not something you typically hear when a character contracts a deadly virus, which goes to show just how much hullabaloo the hotel mogul has sparked beyond U.S. borders.
However, Baron Cohen's films are known to spark similar debate both politically and socially due to his comedic sarcasm. So when E! News chatted with the comedian and producer at the premiere of the film, he continued in jest.
"Well, listen, you know, we don't want to give away the fairy tale ending, but you can't really make jokes about something that potentially destroys the lives of millions of people," Baron Cohen told us. "And you can't make jokes about AIDS either."
Meanwhile, the scene shouldn't come as a major surprise to viewers. Baron Cohen and Trump have had several heated moments with one another in the past.
Trump called the comedic actor "a moron who should have been pummeled" after an Oscars red carpet stunt in 2012. Then, while putting on his famous Borat alter ego, Baron Cohen joined Jimmy Kimmel Live in December and argued that there's no possible way Trump is a real human being.
"The only person who would ban Muslims is someone with a brain like a female chicken," the actor said. "It is clearly a parody of a rich American racist."
He continued, "He don't even look real!"
The Brothers Grimsby hits theaters March 11.
Watch:
Do Sacha Baron Cohen and Kanye West Get Along?