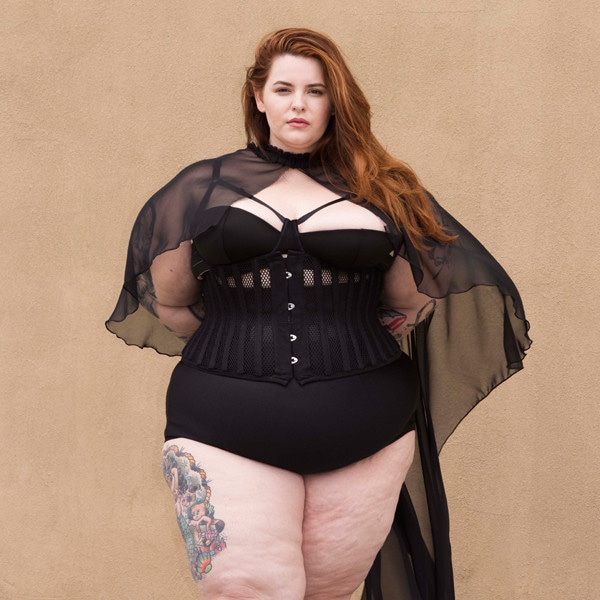 Sergiy Barchuck/The Guardian/Sipa USA
Not all women in Hollywood flocked to their television screens to watch the Victoria's Secret Fashion Show. 
For plus size model Tess Holliday, who is the first size-22 woman to be signed to a major fashion agency, the famous wings and the women who strut down the runway wearing them represent an unrealistic ideal of beauty in the United States. 
"They are perpetuating the image of what's wrong with America and with society, in general, that you have to look a certain way—like a Victoria's Secret Angel—to feel beautiful and be sexy," she told Yahoo! Style. 
Holliday is just the latest in a string of famous female figures, from plus size models to actresses and singers, who have in one way or another publicly addressed the pressures they feel in society to maintain a certain physique.
However, few have spoken out directly in response to the images purported by the Victoria's Secret brand—except for this group of ladies, Holliday included, who refuse to stifle their concerns with the famous name. 
Allen Berezovsky/WireImage
Leave it to The Brothers Grimsby actress and overall funny lady Rebel Wilson to pick the stage of the MTV Movie Awards to publicly display her feelings on the famous winged ensemble. She strutted out in front of the packed audience wearing a pair of her own wings along with a bedazzled and fringed bra. 
"Sometimes girls look at Victoria's Secret models and think they have to model themselves after that...but I really don't think that's the best," the blond bombshell said in the press room after the show. "We're all different shapes and sizes and nationalities, and I think that one of the messages in [Pitch Perfect 2] is we're all beautiful."
Fernando Leon/Getty Images
As a featured model in plus-size retailer Lane Bryant's "No Angel" campaign—a bevy of lingerie-clad plus-size models strutting their stuff in commercials and ads—Ashley Graham has incessantly championed in favor of fuller-figured women in the mainstream fashion scene. 
She has also taken issue with the uneven restrictions applied to Victoria's Secret lingerie models versus plus-size models when it comes to the amount of skin shown. 
 "Victoria's Secret girls can flaunt their panties all day long. But when there was a bigger woman with a little bit extra, they snipped it out immediately," she told Miss Vogue, recollecting a lingerie commercial she was featured in that was banned by several channels in America. 
Still, if you can't beat them—join them. 
"If those [Victoria's Secret] guys are listening, call me!" she said. 
As for America's outspoken heroin of the everyday woman, Amy Schumer hasn't exactly spelled out her feelings regarding Victoria's Secret, but she has made it her punchline. 
"Waiting to go on at #VSFashionShow," she captioned an Instagram photo of herself on the day of the 2015 Victoria's Secret Fashion Show. "So nervous. so hungry."