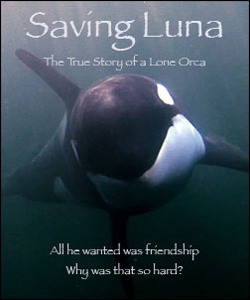 Mountainside Films
Filmmakers Michael Parfit and Suzanne Chisholm originally came to Nootka Sound, off the West Coast of Vancouver Island, in 2004 to cover a story about Luna the orca (killer whale) that was trying to make friends with humans after losing touch with its pod. It was a brief assignment although after being captivated by the spirit of the animal and the battle for its well-being, they ended up staying for years and completed this compelling documentary, Saving Luna, about his life.
Decisions regarding Luna's safety were emotional, political and bureaucratic - no one was quite sure what the best course of action would be in order to keep everyone safe when it came to the little whale that loved to play and frolic next to boaters, and anyone who would give him attention. Some said friendship was all he was looking for, while others argued that it was the worst possible course of action.
Over the last year Saving Luna has also won almost 20 awards around the world from Best Documentary at the Bermuda International Film Festival to a Special Jury Prize in Palm Beach.
Outside the private screening room at the Vancouver Aquarium the other night stood a movie poster with the tag line: "A life does not have to be human to be great." I knew at this moment that I would need to pack my purse with tissues, as I could already feel my eyes welling up.
The cinematography is brilliant and the personal tales are compelling. No other film I have seen in a long time has been able to overwhelm me with such compassion, even though I struggle to remain hopeful that humans have learned a lesson from all that took place. It's an education, a heart-warming story, and very much a legend.
Saving Luna is currently being screened in Vancouver and will move across the country this month and into the new year. It will be in Winnipeg, Manitoba December 18-28, Waterloo, Ontario December 26-31, and back in Sidney, BC from January 16-22, 2009.
GUEST BLOGGER: Rebecca Bollwitt has been blogging about Vancouver since 2004 on Miss604.com, co-hosting two podcasts since 2005 and in 2008 she co-founded sixty4media, a social media consulting firm.