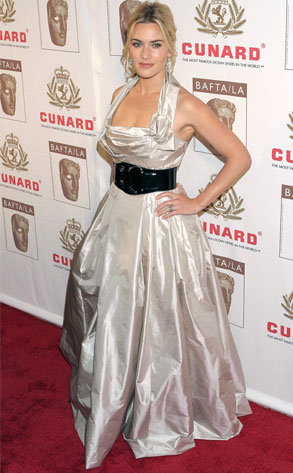 Paul Fenton/ZUMA Press
• Kate Winslet tells Parade she loves the wrinkles of her forehead. "I am enjoying my face changing, as well as realizing that at the same time, as you get older, the machine isn't as well-oiled as it was." Never mind that any such changes were airbrushed away by the mag for its cover.
• Quick Speidi reax update. Audrina thinks it's "very romantic." Whitney says she's "very excited" but probs doesn't really care; she's got City things to worry about. Holly Montag is "hurt." And Lauren probably just did one of her angry eyerolls.
• Hugh Jackman and George Clooney have each been named Sexiest Man Alive and not Funniest Man Alive for a reason.
• We are unsure if Nicole Kidman's Letterman appearance was endearing and adorable or cringey and awkward.
• Thanks, Kim Cattrall, but we've already seen it (nsfw).