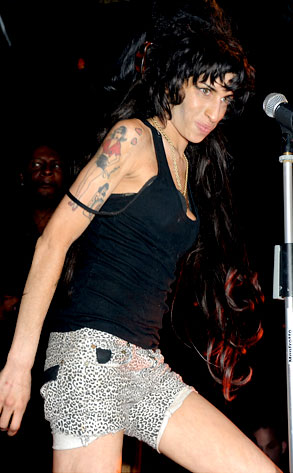 Dave M. Benett/Getty Images
They tried to make her go to the doctor and she said 'yes, yes, yes.'
Grammy-winning singer Amy Winehouse has checked back into a London hospital, her second stay in less than a month, to get treated for a bad reaction to some medication.
Her spokesman, Chris Goodman, told Reuters, the ailing "Rehab" star was admitted to the clinic Sunday after suffering an allergic reaction and is currently undergoing tests and will remain there for observation.
Three weeks ago, Winehouse spent several days in and out of the hospital for a chest infection. Before that, the 25-year-old British crooner logged two weeks in sick bay in June for what tests reportedly showed were early signs of the chronic respiratory disease emphysema.
Winehouse made another pitstop a month later after suffering a bad reaction to some medication she had been taking to kick her drug habit. Her fragile health subsequently forced her to scrap a gig in August.
No word how long she'll remain hospitalized this time around.
Winehouse's hubby, Blake Civil-Fielder, meanwhile is currently out of jail, remanded to a rehab facility. He lost an appeal yesterday in a British court challenging his 27-month sentence for assaulting a pub landlord then trying to bribe him to rescind his story.