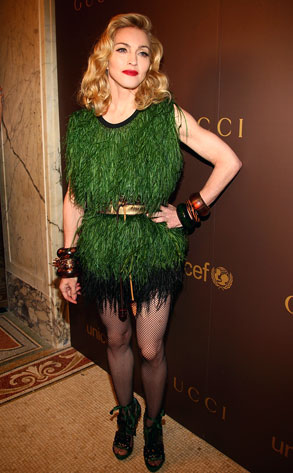 Theo Wargo/Getty Images
• Madonna laments, "I'm sad about my personal life." Fortunately, she has her Sweet & Sticky tour: "[It] provides a distraction that keeps me going."
• No Doubt will start touring again in summer 2009, so get ready for that.
• Kim from Real Housewives of Atlanta says she's going to pose for Playboy and is also a member of J.Love's size 2 club.
• Kanye West explains why he blogs in all caps in all caps: "I USE ALL CAPS CAUSE I'M LAZY NOT MAD. I TYPE WITH ONE HAND AND HOLD THE PHONE WITH THE OTHER."
• It's the battle of completely ridiculous and blingy accessories between Rihanna's rhinestone eyepatch and Beyoncé's crazytown tinsel glasses.
• Gordon Ramsay has allegedly been in a seven-year affair with a professional mistress. British tabs are now monitoring the facial expressions of Gordon and his wife for any visible strain. So far, so good.