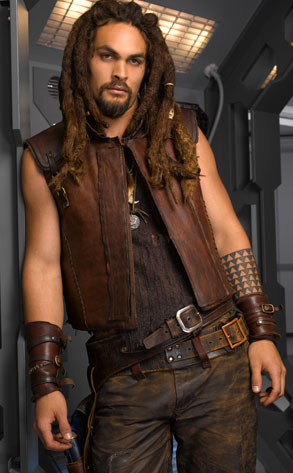 Matthias Clamer/Sci Fi
Jason Momoa's beer glass bully is facing a half-empty future.
Dominic Bando, 21, who allegedly argued with the Stargate: Atlantis actor and hit him in the face with a pint glass, was charged today with assault with a deadly weapon, the Los Angles District Attorney's Office confirms to E! News.
The intergalactic actor required reconstructive surgery and 140 stitches when his face was shattered during the Nov. 15 incident.
Bando is free on $30,000 bail and his arraignment is scheduled for Dec. 10. If convicted, he faces seven years in the pokey thanks to a March conviction for carrying a loaded firearm.
For the nongeek crowd, Momoa also performed on several shirtless seasons of Baywatch and is boyfriend and baby daddy to Cosby Show queen Lisa Bonet.