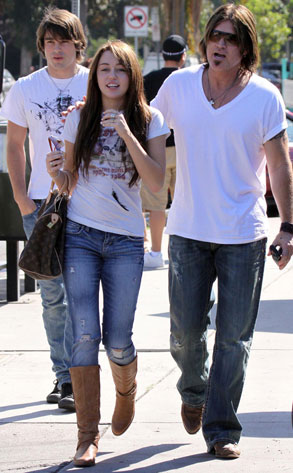 Flynetonline.com
Dear Ted:
Aside from the age difference between the kids, this whole Billy Ray/Miley Cyrus/Justin Gaston thing reminds me a lot of the Joe Simpson/Ashlee Simpson/Ryan Cabrera triangle, and it's really creeping me out. We never seem to hear anything from the mothers of these girls. Why don't they step up and say, enough!
—Katie
Dear Double Tri:
Lynne Spears they're not. Or at least, not so obviously.
Dear Ted:
Not into the Angelina/Brad/Jennifer triangle thingy, but I think it is uncalled for to add Aniston's name in the unsexy men poll and leave Angelina's out—especially since that last pic from the L.A. Times interview last week!
—Elizabeth
Dear Picture Reject:
Unfortunately, I think every girl would still wanna look like Angie on a bad day. She may be annoying as hell, but her body is bangin'. Too damn thin, though.
Dear Ted:
Longtime reader (and admitted Brangeloonie). Who is the most moderate A-lister out there? And of course, by moderate, I mean boring. As in never involved in something that could be considered a felony, not addicted to drugs or drink, doesn't worship aliens, hasn't resorted to mob tactics to get their way, doesn't cheat on their significant other and is honest about their sexual orientation.
—G