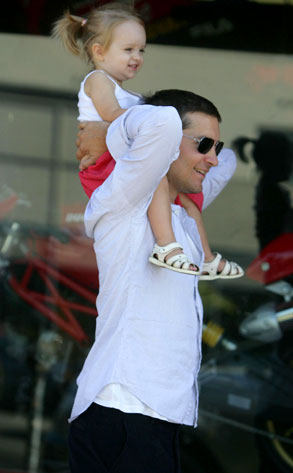 Anthony, PacificCoastNews.com
Tobey Maguire is going to be a daddy again.
The Spider-Man star, 33, and his wife, jewelry designer Jennifer Meyer Maguire, are expecting their second child, Maguire's rep confirms. The baby is due next spring.
The couple, who married on Sept. 3, 2007, in Hawaii after a four-year romance, became first-time parents with the birth of daughter Ruby Sweetheart two years ago.
"It's a very dramatic change," Maguire told David Letterman shortly after Ruby's birth. "My whole life is in transition now, with friendships and where I'm going to live, you know, just your whole perspective. It's great. She's so adorable. She's just a smiley little beautiful thing."
Maguire has signed a deal to star in Spider-Man 4 and 5 with a contract that reportedly includes provisions allowing him to take time off in the early mornings and late evenings during filming to spend time with his expanding family.