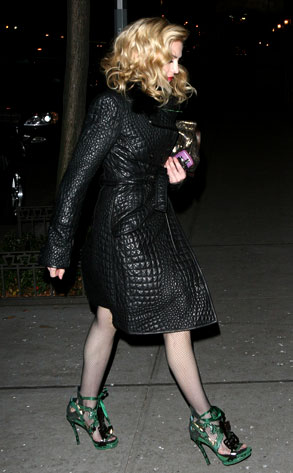 INFphoto.com
Has Madonna been lurking inside gal pal Gwyneth Paltrow's closet? Gwynnie started this whole parade of questionable footwear with her PR press tour of Iron Man, and now Madge is following in her stiletto-steps. That's one way to stay connected, now that the best buds will be an ocean apart.
First were those handgun heels at her Filth and Wisdom screening, and now it's this pair of ghastly greenies. Leaving a Unicef fete in New York, M was obviously on her way to Oz, and we hope she asks the wizard for a new pair of footwear.
"Going green" is way trendy in H'town, so please do recycle those things when ya throw 'em out, Maddy, which we so implore you to do, promptly. Although they're probably pretty comfy while walking all over Guy.