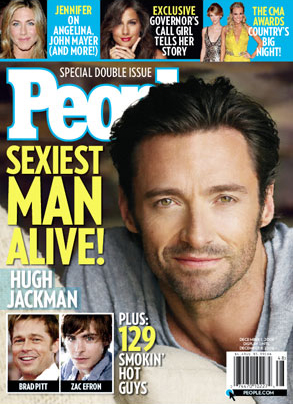 People
• Hugh Jackman is the Sexiest Man Alive because he is "all scruff and biceps" and has what his wife calls "the Body of Doom." Do you agree?
• Is Gwynnie thinking of getting a divorce because Madonna got one and best friends do everything together? She hasn't been spending too much time with hubby Chris Martin and hung out with a billionaire bachelor while in Miami.
• Anne Hathaway's new boyfriend might not be so good after all, because he reportedly "went after all the heiresses" in college.
• Pam Anderson has some advice for Obama, including some recommended reading and a plea to legalize marijuana.
• Reese Witherspoon would like a chicken coop for Christmas, in case anyone wants to hook her up.
• Everything else is same old, same old—LiLo and SamRo are fighting and Jessica Simpson hearts Tony Romo.