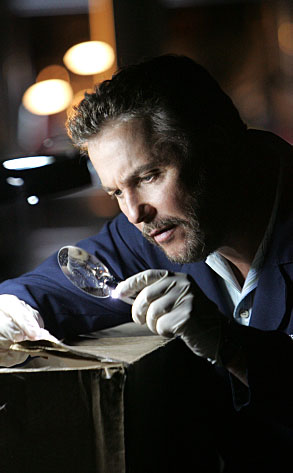 Monty Brinton/CBS
What if CSI wasn't CSI?
Last week, the CBS crime show was what it's been for most of this decade: TV's most watched drama series.
But what if, suddenly, 21 million viewers, as top-hit CSI is averaging for the season, became 13 million?
Then a new AOL Television poll will have been right on the money.
In the poll, 37 percent of respondents said they won't watch CSI after William Petersen exits at midseason.
About 41 percent effectively put the series on probation, saying "maybe" they'll keep tuning in, post-Grissom—it all "depends on how good [Petersen sub] Laurence Fishburne is."
Elsewhere, Lipstick Jungle's numbers are in the spin cycle, plus nine other lessons from the latest Nielsen rankings and stats...