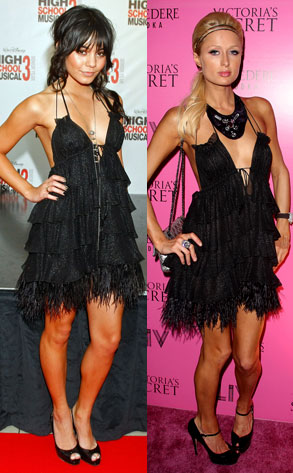 Lucas Dawson/Getty Images, Alexander Tamargo/Getty Images
Paris Hilton is really into recycling lately...dresses, that is.
Just last week at her Nylon cover party, she wore the same green Diane Von Furstenburg dress that two starlets already wore ages ago.
And on Saturday in South Beach, P picked a black Jenny Packham dress for the Victoria's Secret fashion show that Vanessa Hudgens recently rocked at the High School Musical 3 premiere.
Does somebody need a new stylist?
Anyhow, neither is the clear winner here: Vanessa loses points for her overly orangey legs, while Paris' chunky necklace distracts from the fringed frock.
Anyway, enough from us. Who do you think wore it best? Sound off below.