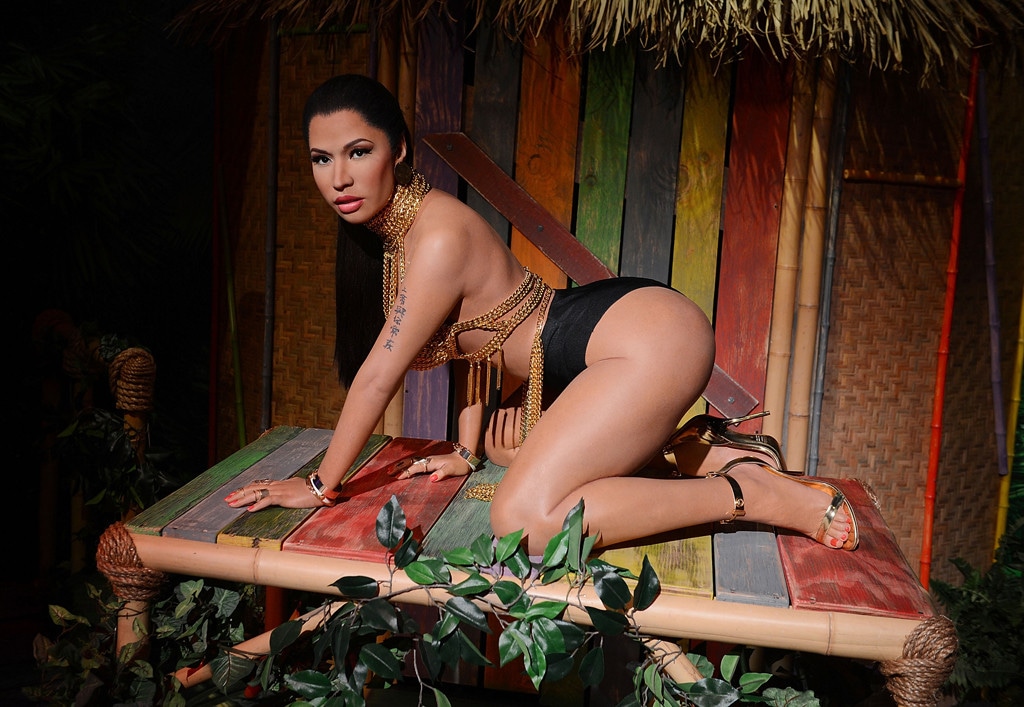 Denise Truscello/Getty Images
Nicki Minaj's fans have had enough of her wax booty getting violated by patrons at Madame Tussauds.
The rapper's new wax figure, which she dubbed as "iconic," was unveiled earlier this month in Las Vegas, and features the bootylicious vixen on all fours from her "Anaconda" music video. So it was only a matter of time before the drunk Vegas coterie started misbehaving with the figure and shared the evidence over social media.  
Nicki retweeted a fan's tweet to the museum of a photo—of a man with his face in all up in wax Nicki's rear end—with the fan saying, "Srsly they need to stop." The museum responded to the fan by saying a barrier had been added to prevent photos like the one the fan spotted. 
Madame Tussaud then later released a statement saying, "We have been made aware of the inappropriate photograph that was taken at Madame Tussauds Las Vegas, involving Nicki Minaj's new wax figure," adding, "It is unfortunate that this visitor decided to behave so inappropriately and we apologize for any offense this has caused."
They concluded by saying, "We are taking immediate steps to ensure more staff are present in this area and that the set around this particular figure is redesigned so that a picture like this cannot be taken again." 
Minaj tweeted thanks to the fans saying, "I don't think u understand how I'm laughing right now. Like rlly Hittin ppl up, getting answers and s--t like wtf" adding, "Like I'm off in my own lil world n yall on here gettin results like how r u so cute?"
Not everyone has been on board with Minaj even having a wax figure, let alone it being redesigned. 
Azealia Banks tweeted earlier this month "Wow, they finally give nicki minaj a wax figure and it's a statue of her bent over on all fours...... White people yo...." She later added, "As much as that woman has accomplished, they had to put her on all fours... Why not standing up with a mic in her hand??? I would complain and ask for a do-over. That's such underhanded shade. Martha Stewart's most iconic moment was when she went to jail but they didn't put her wax figure in a jail uniform... Come on y'all... All ppl are gonna do is go up to that statue and take pictures shoving their crotch in her face and putting their crotch on her butt. That's not nice. I don't feel good about that. But if u like it I love it."
Will Nicki Minaj and Miley Cyrus butt heads at the 2015 VMAs? Our Live From E! team discusses.