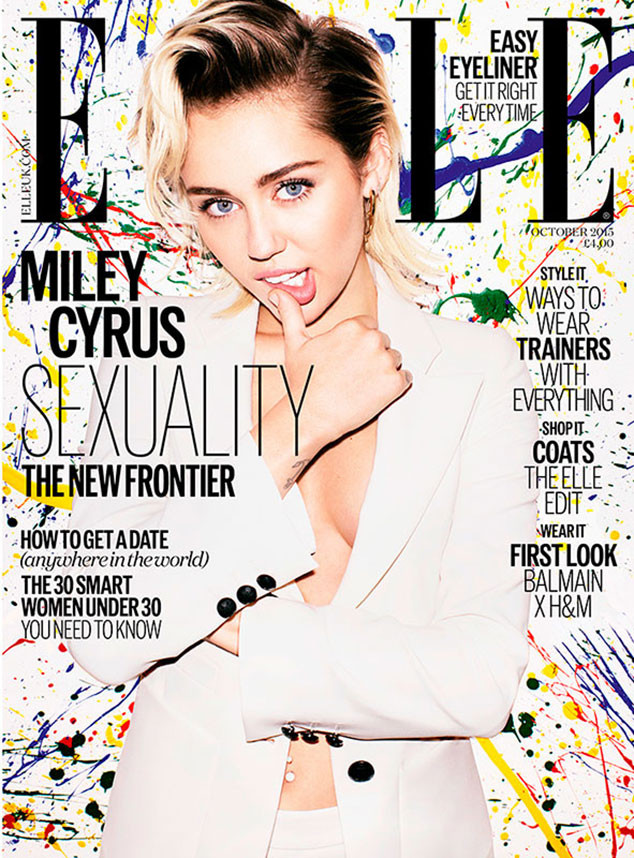 ELLE UK
It's no secret that Miley Cyrus dislikes labels.
So, when asked about her relationship with Victoria's Secret Angel Stella Maxwell, Cyrus downplayed the "girlfriend" title. "I'm 22, I'm going on dates, but I change my style every two weeks, let alone who I'm with," she admitted in Elle U.K.'s October issue. "I'm very open about it; I'm pansexual. But I'm not in a relationship."
Cyrus and Maxwell, 24, met through their mutual friend Cheyne Thomas. In July, the two were photographed sharing a passionate kiss in a Los Angeles parking lot. Cyrus and Maxwell later posed for a risqué W magazine photo shoot.
The "Wrecking Ball" singer isn't willing to define her relationship with the model, nor is she willing to define her gender identity. "I don't relate to what people have made men and women into. I know I'm more extreme and badass than most guys, but that doesn't make me a boy," Cyrus told Elle U.K. "And the other night I wore a pink dress because I felt cute. I can bake a cupcake and then go play hockey."
As far as her hyper sexualized image is concerned, the pop star confessed, "I've had really bad anxiety and depression in my life and a lot of that stemmed from the way I look." No more, she said. "Now I really try not to give a f--k. If you're funny enough and cool enough and confident, that's what will make you feel beautiful."