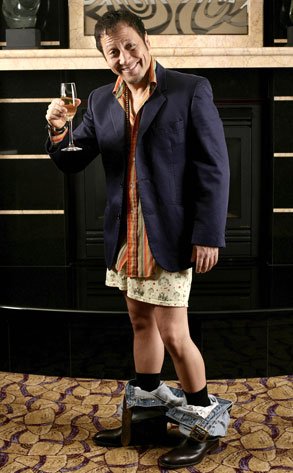 Kristian Dowling/Getty Images
As the moviegoing public attempts to come to grips with the stunning news from comedy legend Rob Schneider that there will not be a third Deuce Bigalow: Male Gigolo film in the beloved franchise, there is also a positive side to the story. Since the initial Bigalow effort debuted in 1999—followed by 2005's Deuce Bigalow: European Gigolo—Hollywood critics, entertainment industry pundits and film scholars alike have tried in vain to describe the unique genius contained within the oeuvre.
Now Schneider himself has answered that question. "If you're lucky to capture a little bit of magic, it's like capturing lightning in a jug," the star revealed to MovieHole.net.
"Staggeringly accurate," stated longtime film critic E.F. Hymes upon hearing Schneider's explanation. "The creative essence of the Bigalow code has finally been quantified. The man is not only a comic visionary; I'd venture to say he's something of a poet," said a visibly moved Hymes. "Now, perhaps the rest of Hollywood can reach for this elusive magic—this lightening of which Schneider speaks."