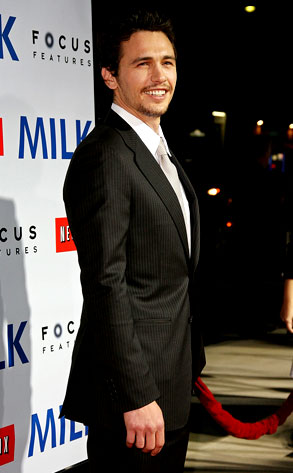 Valerie Macon/Getty Images
We asked everyone at the Milk premiere if we'd ever see a modern day Harvey Milk in the White House, meaning an openly gay guy as the leader of the free world. Hey, for all you doubters out there, when did ya think a black man would be elected president, 3008? So there. Here's the sass they spat back:
Awful Truth: Think we'll ever have a gay president?
James Franco: I dunno! It would be great!
A.T.: Knew you were a smart fella, college boy.
Stuart Milk, Harvey's Nephew: It's amazing electing our first African-American president. I think we sent a huge message to the world [that] anything is possible in the U.S."
Cleve Jones, gay activist: I suspect we've already had a few.
A.T.: Wow. Maybe it was prez No. 15, James Buchanan, who never married? And there are some rumors floating around that Abe Lincoln and Mary Todd were never all that hot 'n' heavy in their log cabin...
Marissa Jaret Winokur: I hope we have a woman president! I hope we have a Jewish president! This has opened the doors for so many minorities that haven't been seen.
A.T.: Who would be a great gay president?
MJW: My son, Zev Isaac Miller! That's if he's gay, but he's only four months old, he doesn't know yet. We're hoping!
—Additional reporting by Becky Bain