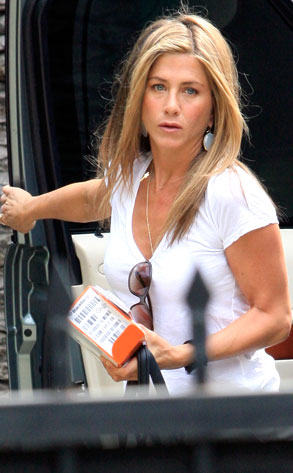 INFphoto.com
Dear Ted:
No comment about Jennifer Aniston's desperate attempts to get attention? Even showing up at The Ivy simply to be photographed in all her tank-top splendor? You crucify Angelina if she crosses the street. You are really showing your bias rather than any journalistic integrity. It seems to be as many on web blogs have said. You have a personal vendetta against Angelina Jolie for squeezing the butt that you so wish you had a chance with—Brad Pitt.
—Elizabmo
Dear So Gay:
Oh, please, I hear that one anytime somebody doesn't like something I say about a good-looking straight guy. It's just so easy, I'm sure you're better than that, E. I razz on A.J. because she's the best saleswoman in Hollywood, and people just don't see it. Besides, Mr. P. likes the chicks, or at least the ones who gave me the deets on Brad when they slept with him. And I'm not looking, anyway.
Dear Ted:
I'm not down with your analysis of why Prop 8 passed. As a queer woman of color, I'm uncomfortable with your blaming of minority voters. Statistics suggest that it passed largely due to the over-65 contingent and that race is not an appropriate category to think about. See Nate Silver on FiveThirtyEight.com for more. Also, I feel like that reinforces the invisibility of queers of color by implying that all minorities are homophobic or that all queers are white. There is hope for repealing Prop 8—the youth, but stop the hate, please.
—Amber
Dear Spread the Love:
Big distinction between expressing disappointment and placing blame. There are many factors that caused Prop 8 to pass, only one being that the black community overwhelmingly supported it.
Dear Ted:
I was just at JustJared's gossip blog going through the thread about Aniston's interview, and I was sick to my stomach from all the Brangelina loonies attacking her. She was cheated, she was dumped, and yet it's Saint Angie that deserves the praise? Please, when will this madness end?
—Sick of Brangelina